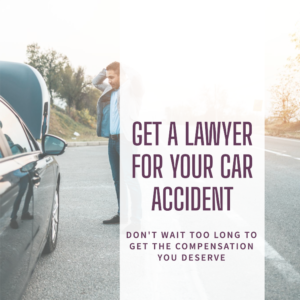 The aftermath of a car accident can be overwhelming, with victims often grappling with when to seek medical attention or hire an attorney. This guide demystifies these complex dynamics, mainly when seeking legal counsel might be too late. Whether you're an accident victim or equipping yourself with unforeseen eventualities, this article sheds light on the crucial timelines for engaging a lawyer after a car accident.
Table of content
Understanding The Car Accident Scene
Knowing The Law: Understand The Statute Of Limitations
Late Discovery of Injuries and Medical Treatment
Wrongful Death and The Demand for Justice
Tussle with Insurance Companies: Unfair Settlement Offers
When Legal Help is Needed: Get a Lawyer
Hiring an Attorney: Maximizing Compensation
Ensuring Fair Settlement and Compensation through Legal Counsel
Understanding The Car Accident Scene
Following a car accident, the accident scene can offer a goldmine of evidence to support your claims. Skid marks, property damage, and witness statements could provide crucial information about how the accident occurred, who was at fault, and the severity of the impact. Often, law enforcement officers compile an accident report containing these important details. Collecting this information promptly is crucial, as the accident scene will eventually be cleaned up, potentially erasing critical evidence.
In some cases, car accident victims may initially assume their injuries are minor, not realizing the full extent of the damage until later. Documenting personal injuries is essential, no matter how slight they seem. This includes seeking medical attention immediately after the accident, even for perceived minor injuries. Overall, the accident scene can provide substantial evidence to support your car accident claim.
Preserving information from the accident scene is one aspect of collecting the essential evidence necessary to navigate your car accident case successfully. However, managing this can be difficult, especially when dealing with injuries. That's where a car accident lawyer comes in. They can help you gather the needed evidence, assess its value, and use it to strengthen your case.
Knowing The Law: Understand The Statute Of Limitations
Understanding the statute of limitations in your state is undoubtedly pivotal. This law stipulates the time limit within which an accident victim can file a lawsuit following a car accident. Suppose this time frame expires, irrespective of the severity of injuries suffered or clear evidence of another party's negligence. In that case, it may be too late to get a lawyer involved and effectively pursue your case.
The statute of limitation varies depending on your location. For example, in some states, this timeframe might be two years from the accident date, while in others, it might extend to three years. Being privy to this crucial information is paramount to avoid losing the right to collect compensation for your losses.
However, there are a few exceptions to this rule. Sometimes, the clock might not start ticking immediately after the accident. For instance, if the injuries prevent you from identifying the extent of your harm, the time limit could start from when you first realized the impact of these injuries. The complexity of these rules further underscores the importance of quickly seeking legal representation.
Late Discovery of Injuries and Medical Treatment
In many car accidents, injuries do not manifest immediately. Instead, these may appear much later after the crash, confusing many car accident victims on when to seek legal help. Pain from whiplash injuries, psychological trauma, and other serious injuries often don't present symptoms until several days post-accident. What happens in such scenarios?
Prompt and consistent medical treatment is paramount, even in minor-seeming car accidents. Regular check-ups and adherences to medical appointments help prove that your injuries were indeed a result of the accident. Maintaining medical records, receipts, and an account of lost wages can be crucial for a personal injury claim.
In the case of late-appearing injuries, you have rights as an accident victim. If within the statute of limitations in your state, you can initiate an insurance claim or personal injury lawsuit. With the relevant medical records and consistent treatment history to substantiate your claims, a competent car accident attorney can navigate this claim process, ensuring you get a fair settlement.
Wrongful Death and The Demand for Justice
In the tragic event of wrongful death resulting from a car accident, the deceased person's relatives or dependents have the right to seek justice and claim compensation for their loss. This could compensate for medical bills, funeral costs, loss of income from the deceased, and emotional suffering.
Wrongfully causing another's death by reckless driving or negligence can be grounds for a wrongful death lawsuit. Here, the statute of limitations is also crucial. Usually, it starts from the date of the deceased's death and not the date of the accident.
It's never too late to get a lawyer for wrongful death suits until the statute of limitation lapses. With this narrow window in play, prompt legal advice is necessary. Engaging the services of a well-grounded car accident lawyer maximizes the chances of landing a successful outcome in these often complex legal waters.
Tussle with Insurance Companies: Unfair Settlement Offers
Filing a car accident claim is rarely straightforward, as accident victims often deal with convoluted insurance claim procedures. Amid the onset of physical injuries, emotional trauma, and financial uncertainties, filing a claim with the driver's insurance company can be daunting. Insurance companies may complicate matters further by trying to obtain recorded statements from victims while they are still in shock or confusion post-accident. Such statements can potentially be used against the victim, undermining the validity of their claim.
When Legal Help is Needed: Get a Lawyer
One indicator that it's time to seek legal representation is when an injury prevents you from adequately assessing your situation or handling the complexities of the claim process. If you are left incapacitated, overwhelmed, or dealing with persistent, unrelenting pain, it might be time to hire an attorney. This decision concerns legal proceedings and your well-being, allowing you to focus on recovery. Another scenario where urgent legal assistance may be needed is if the other party disputes liability or their insurance company denies your claim. In these instances, a lawyer's deep knowledge of personal injury law becomes indispensable.
Hiring an Attorney: Maximizing Compensation
More than just legal representation, retaining a skilled car accident attorney ensures that your interests are protected every step of the way. You may find yourself pitted against experienced insurance adjusters whose primary objective is limiting the amount their company pays out. By having legal counsel, you are less likely to fall prey to tactics employed by insurance companies to minimize compensation. An empathetic attorney understands the emotional and physical pain accident victims go through and thus strives to ensure you receive full compensation for your medical expenses, lost wages, and pain and suffering.
Ensuring Fair Settlement and Compensation through Legal Counsel
Access to legal representation can also help demystify the often complex insurance claim process. Accident victims may be entangled in the complexities of statutes, policy language, liability arguments, and damage assessments designed to undermine their claim's validity. By adeptly navigating these tricky waters, a car accident lawyer can help ensure you receive a fair and just settlement. Furthermore, an experienced attorney can expertly challenge any lowball compensation offers, stressing that only full compensation can truly reflect the accident's aftermath.
Free Consultation: Exploring Your Options
Many law firms specializing in auto accident cases offer free initial consultation sessions. Scheduled at their office, over the phone, or even in the hospital, these sessions typically involve the potential client explaining their situation, followed by the attorney outlining possible legal options or strategies. This free consultation provides a platform for assessing the professional chemistry between you and the attorney. It lets you get a feel for their empathy, communication skills, and competence in personal injury matters.
Conclusion: Time is of The Essence
While the idea of a 'too early' does not exist in personal injury cases, a 'too late' does and is irrevocably defined by the statute of limitations. The adage "the early bird catches the worm" rings true here. These are time-sensitive actions, from preserving evidence, identifying witnesses, and ensuring prompt medical treatment to engaging a car accident lawyer. By promptly initiating these steps, you enhance your chances of achieving a successful outcome in your car accident case. The journey to fair compensation and justice may not be easy, but with time on your side, and a competent attorney as your guide and champion, it is undoubtedly achievable.